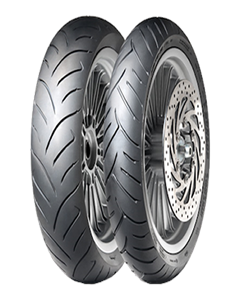 90/80-14 DLOP SCSMRT 49P TL
All new. All weather. All Dunlop.
The new ScootSmart tyre represents a huge step forward for scooter riders. Applying all the experience gained from Dunlop's globally successful RoadSmart motorcycle tyre, the ScootSmart brings unprecedented levels of technology to the small-wheel class. Using Finite Element Analysis (FEA) simulation techniques and high-grade silica tread compounds to deliver an optimum mixture of grip, handling and mileage. ScootSmart is a perfect extension of the Dunlop 'ride with confidence' philosophy – in all conditions.
Key benefits
Combines the very latest technologies with experience from the Dunlop RoadSmart motorcycle tyre to reset global performance levels for scooter tyres
Silica tread compound components used for excellent grip and mileage, in all conditions
Key strengths in wet performance, dry grip, stability, progressiveness and precision
Finite Element Analysis (FEA) techniques allow virtual prototyping across every possible type of loading
Breakthrough tread pattern based on the iconic RoadSmart sport touring tyre further improves wet-weather performance
Radial sizes adopt motorcycle tyre structure design to optimise high-speed capability and handling precision
Speed range of up to 210kph (depending on size)
Wide ScootSmart range covers all on-road radial and cross-ply applications to fit all types of scooters, from 50cc, classic and 125cc models to big-wheelers (16"), three-wheelers and high performance machines