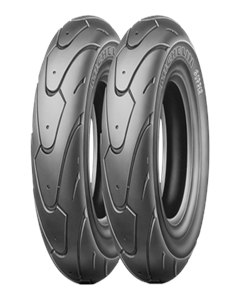 120/70-12 MICH BOPPER 51L (U) TL/TT
Sporty performance for BW's, Typhoon, Booster, Speedfight scooters, etc
The advanced design of the Michelin® Bopper® tyre helps deliver outstanding performance. With impressive grip even at full lean, the Bopper® tyre inspires confidence thanks to its excellent feedback and control. The directional, semi-slick tread pattern helps provide a stable contact patch for acceleration and cornering.
Bopper® features a semi-slick tread pattern derived from racing slicks for exceptional adhesion in corners
Directional tread for optimal performance on front or rear wheels
Inspired by racing slicks
Exceptional adhesion in corner
L-rated for speeds up to 75 mph
Front tyres
There are no front sizes available for this tyre.
Rear tyres
There are no rear sizes available for this tyre.